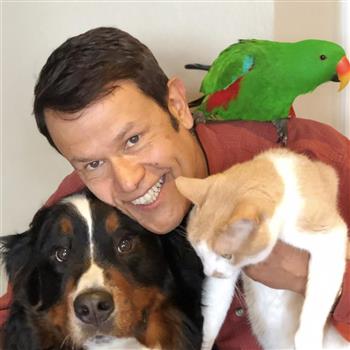 Edit in profile section
Look at those eyes! Bunsen wants you to give money to help the orphaned gerbils find homes!
John Gustavsson
Its the last week before Doggie Dash!

Stuart and I have been volunteering at OHS for years, and continue to be impressed by the hard work and dedication of all involved. There is no case too big (250 parrots!!) or too small (100 pet rats!) not to mention the daily ins and outs of caring and feeding and loving all the dogs and cats and bunnies in our care. You, too, can be proud to be a part of such an organization.

Please, donate to the care of companion animals. Just click on a Donate button on this page.

Thanks again!!
John & Stuart
Bunsen the Berner, Buddy the cat, Bruce the parrot, Rango the tortoise, Michelle the dragon, LG the leopard gecko, Camilla Chameleon, Leopold Chameleon, Arugula the Day Gecko, Huey, Dewey & Louie the dumpy white frogs, The Nameless Parakeets, Precious the axolotl, Pepe the salamander, Pachelbel the newt, Gulp x Two the african frogs, Mazorca the corn snake, & Buttercup and One Eyed Jack, the ball pythons and the Multitude of Guppies


About the Oregon Humane Society: OHS is the largest and oldest humane society in the Northwest. Last year, OHS found homes for more than 11,600 pets, investigated more than 1,000 reports of animal cruelty, and reached 14,000 people through its humane education programs.